This article features a character who is in a game released only in Japan. The editors of this wiki are English speakers, which may cause certain translations or information to be incorrect.
Keith Russel is one of the playable characters in Atelier Lina.
He is a lady-man with a skill in smithery that lived in Felzen. He used to be part of a bandit gang, but quit for Lina's sake and now strives to live a honest life as a blacksmith so he can be accepted by her.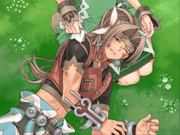 Ad blocker interference detected!
Wikia is a free-to-use site that makes money from advertising. We have a modified experience for viewers using ad blockers

Wikia is not accessible if you've made further modifications. Remove the custom ad blocker rule(s) and the page will load as expected.