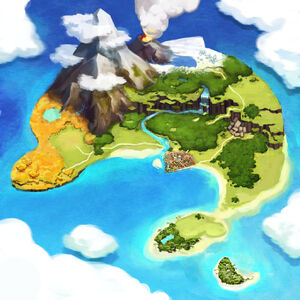 Sera Island is an island located in the northern area of the Kingdom of Orde. It is the setting of Atelier Annie: Alchemists of Sera Island.
The island is has one town, called Lichterzehn, which is divided into a Business District and a Residential District. In addition to this, there the island possess Resort Facilities, which are chosen by Annie Eilenberg, and Gathering Points, which the alchemists use to gather materials. Annie funds the development of the resort facilities using the prize money she earns from the Sera Island development contests.
Lichterzehn
Edit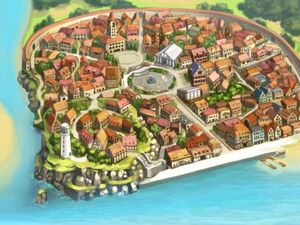 Lichterzehn is the only town on Sera Island. During the course of the contest, Annie can visit nine areas within Lichterzehn. These are divided into a business district and a residential district. The town is protected by the Knights of Orde, but they frequently need the aid of the alchemists in order to kill some of the more powerful enemies on the island. Thanks to the development contest, most of the residents of the island are either alchemists or members of the Sera Island Development Committee.
Atelier Annie
Edit
Atelier Annie is the workshop rented out to Annie Eilenberg during her 3 year stay on the island. The back of the building is Annie's workshop, which is where Annie lives and works to create items. It contains tools for alchemy as well as a desk and a bed. Pepe sleeps in a hammock in this room. Annie's friends have no problem with wandering in and out of her room at will. The front of the building is Annie's shop, called Atelier Annie. This is where Pepe manages the resort facilities and where Annie sells items she has made. Depending on the level of the resort facilities, the shop changes appearance. It is located within the business district.
Weapon Shop
Edit
The weapon shop is where Annie is able to buy weapons to use against the monsters that reside on the island. The shop is run by Amalie, a former adventurer. Kyle Eugrald is often in the weapon shop, and will join Annie's party or work as a clerk at her request.
General Store
Edit
The general store is where Annie can get alchemy tools and ingredients. It is run by Jacob Liefman, an old man who knows much about the island. During the second year, Lisette Lander can be found in general store, looking for ways to make more money.
Restaurant
Edit
The restaurant is a dining establishment run by Fitz Erberlin. Fitz can usually be found here, and many characters come to the restaurant to eat.
The Sera Island Development Committee Headquarters
Edit
The Sera Island Development Committee Headquarters is located in the residential district. This is where contest participants must go in order to turn in alchemy assignments. It is also where the Knights of Orde are located. This is where Hans Arlen, Daniel, Brookhart, and Gillian Clout can usually be found. If Annie creates a monument worthy of a Gold medal during the last contest, it will appear here.
Adventurer's Guild
Edit
The Adventurer's Guild is where adventurer's on Sera Island go for work. Several alchemists on the island will go here looking to increase their fame and make some money by synthesizing items for clients. The guild is run by a former dancer named Brigitte Gabrielle. Kilbert Hennes can often be found here.
The Library is the center of information on the island. While the library offers many research materials and books to check out, they also sell alchemy books to the contest participants. The librarian is Melody Orkin.
Main Plaza
Edit
The Main Plaza is a park in the middle of Lichterzehn. Residents of Sera Island frequently come to the plaza to relax. Some shopping kiosks are set up, but they do not sell items related to alchemy. Beaux Shrick can often be found here.
Resort Facilities
Edit
The resort facilities are divided into five areas, each with two possible choices for development.
Park
Cost: 10,000,000 Cole
Description: "Everyone's hangout spot. Nature-related jobs can be found here."
Spa
Cost 23,000,000 Cole
Description: "Provides natural springs. Spa-related jobs can be found here."
Theatre
Cost: 20,000,000 Cole
Description: "Many great plays are performed. Clothes-related jobs are here."
Museum
Cost: 29,000,000 Cole
Description: "Displays a ton of art pieces. Art-related jobs can be found here."
Theme Park
Cost: 15,000,000 Cole)
Description: "Everyone can play like a kid. Service-related jobs can be found here."
Beach
Cost: 17,000,000 Cole)
Description: "Turn it into a resort beach. Cool jobs can be found here."
Bakery
Cost: 10,000,000 Cole)
Description: "Your sweets are ready! Sweets-related jobs can be found here."
Market
Cost: 13,000,000 Cole
Description: "Various supplies from around the world and a broad range of jobs can be found here."
Hotel
Cost: 13,000,000 Cole
Description: "Facility for the tourists. Service- and cooking-related jobs can be found here."
Aquarium
Cost: 26,000,000 Cole
Description: "Collection of marine creatures of Sera Island. Marine-related jobs can be found here."
Gathering Points
Edit
The gathering points are locations Annie can travel to in order to get alchemy materials. These areas consume time while Annie is moving around inside them and they are usually monster infested.
Ad blocker interference detected!
Wikia is a free-to-use site that makes money from advertising. We have a modified experience for viewers using ad blockers

Wikia is not accessible if you've made further modifications. Remove the custom ad blocker rule(s) and the page will load as expected.