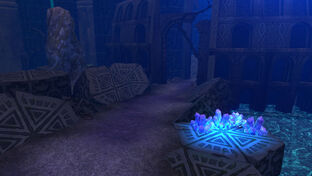 The Palace Depths is a dungeon only found in Atelier Escha & Logy: Alchemists of the Dusk Sky. This is the second part of a two-part special dungeon that can only be unlocked through downloadable content, the first being the Palace of Paupers.
After defeating Overlord and Regullveig, Escha, Logy, and co. have made their way inside the crumbling palace. There, they descend down the pillars that are connected to each other while the dimly lit crystals and glimmers of light from above light their way as they proceed further down.
Once the reach the bottom of the palace, the gang encounters the final palace guardian, Panzer who proceeds to stop them from getting any further. Once Panzer is defeated, the gang reaches the throne room and crosses the bridge leading to the platform with the final boss, the Ancient Beast King sitting on his throne waiting for them.