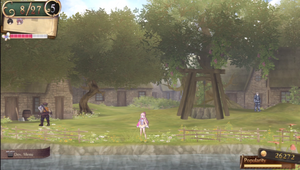 "A big pioneer town thanks to Meruru."
— Map Description (after development)
Yuvel is a location in Atelier Meruru: The Apprentice of Arland.
When Meruru discovers the area, it is a barren and desolate plot of land. The area has been long since abandoned, although Lord Dessier tried to develop the area once before. It was once flourishing with crops, until it was hit when Mt. Velus erupted many years before, causing famine in Arls. In the current time, however, Meruru decides to redevelop the area.
Through various development quests, she is able to make the land fertile again, making it a farming land. Additionally, homes are built onto the land, making it into a small prosperous settlement.
Map InformationEdit
Development QuestsEdit
Main article: Kingdom Ranks (Atelier Meruru)
Blessed Rain
Rubble Cleanup
Residentials
Mobile Meal
Specialty Creation
Specialty Tonic
Specialty Sample
N. Mountains Dev.
N. Mountains Dev.+
Ad blocker interference detected!
Wikia is a free-to-use site that makes money from advertising. We have a modified experience for viewers using ad blockers

Wikia is not accessible if you've made further modifications. Remove the custom ad blocker rule(s) and the page will load as expected.